By Tim Barnes-Clay
Instagram @tbarnesclay
The Mazda 2 is the forgotten city car.
While the likes of a Volkswagen Polo or SEAT Ibiza spring to mind when talking about small hatchbacks, it is easily overlooked.
But should it be? The 2 was facelifted not so long ago, plus Mazdas are generally underrated cars – and often well equipped.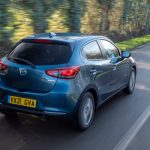 I tested the top-of-the-range GT Sport Tech trim. Kit includes a 360-degree camera, adaptive LED headlights and front and rear parking sensors, plus a host of safety technology. This tech comprises rear cross-traffic alert, driver attention alert and pre-crash safety with smart brake support.
There are two types of petrol engines – the SkyActiv-G and E-SkyActiv G – the latter includes mild-hybrid technology. Both are 1.5-litre four-cylinder units, but the amount of power (and whether you get a manual or automatic) depends on the trim you pick, ranging from 75PS in the SE-L up to 115PS in my test car.
The Mazda 2 now comes in self-charging form, too, where it's available with three different trims, but I'm testing the mild hybrid.
The 115PS engine isn't lightning quick, but it is noticeably punchier than the others in the range. For example, zero to 62mph takes 9.1-seconds, which should suffice if you're driving around town.
The Japanese model doesn't have a vast amount of outright grunt if you're trying to overtake on a motorway. But then, as a city car, it's meant more for ring roads and stop-start traffic in town centres.
The engine under review here is only available with a manual gearbox. So, if you're driving around town a lot, the automatic transmission might make your life easier. But then you'll have to opt for the Sport trim or above. Plus, you'll have to make do with the non-mild hybrid power units.
Somewhat surprisingly for a city car, the handling is reasonably good. Its firmer suspension set-up means the 2 doesn't lean much when taking a corner at speed. Furthermore, it is relatively zippy on twisty B-roads.
The steering is light at lower speeds, but it firms up well when you gather pace. Mind you, there's not a tremendous amount of feedback, so judging how much grip you've got at any given moment is not the easiest.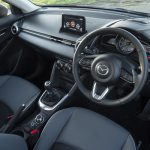 The model under review will do around mid-50s mpg, which is impressive, while CO2 emissions are limited to 113g/km of CO2. I managed almost 50mpg on my test route, which is still good for a petrol propelled car.
Inside, the Mazda 2 is nicely laid out, but there isn't really much to talk about. There are some round air vents, an infotainment screen – and that's about it. Nevertheless, at least it looks pleasant, helped by lots of silver touches on the air vent surrounds, the steering wheel, and the middle of the centre console.
Some trims, including my test car, get dual-coloured interiors, which look the part. And the infotainment system is a walk in the park thanks to a rotary dial on the centre console. You mainly expect to see this feature in premium cars like BMWs. It makes using the system a lot easier to operate on the move compared with rivals who insist you use the touchscreen.
There are a couple of cupholders in the front, and although door bins and a glove box are offered, they don't provide a great deal of space.
Despite being well equipped in other areas, the Mazda 2 has no electric seats. But at least the driver's seat has manual height adjustment, so finding a comfortable driving position isn't much of a challenge. There is a surprising amount of headroom for a small car, too.
The rear isn't as accommodating, and if you regularly need to ferry adults about in the back seats, you're better off looking elsewhere. Most of the Mazda 2's competitors have a more spacious rear, and it's only really suitable for a couple of children.
The lack of rear space doesn't translate into bigger boot space, which is disappointing. In fact, the Mazda 2 has one of the most petite boots in its class, comfortably beaten by most of its rivals at 280-litres. But it does increase to 950-litres if you fold down the rear seats in a 60/40 split.
Overall, the Mazda 2 is a nice little car, but, despite the mid-life facelift, it's showing its advancing years. Challengers, such as the Ford Fiesta, SEAT Ibiza and Volkswagen Polo, all beat it for comfort and practicality, especially when it comes to rear-seat space and boot capacity.
Despite the drawbacks, it handles reasonably well, and the interior is nice. What's more, if you're regularly going to be the only occupant, then you may find the Mazda 2 more spacious than you might think.
Fast Facts: Mazda 2 1.5 115PS GT Sport Tech
Max speed: 124mph
0-62 mph: 9.1 secs
Combined mpg: 56.5mpg (WLTP)
Engine layout: 1496cc four-cylinder petrol (with mild hybrid technology)
power (PS): 115PS
CO2: 113g/km
Price: £21,575